The Girl Scouts had a blast at Lake Tawakoni State Park located in Wills Point, Texas. 
We heard a great nature talk and went for a hike. 
Park Rangers Bill Pelfrey and Scott Eager led a presentation on the wildlife in the park and identifying tracks and scat. During our hike through the woods, they showed us bat and bluebird boxes, prairie restoration areas, and many other distinguishing features of their park.
Violet really liked the little rubbery paw models. They showed a super detailed version of raccoon, possum, squirrel paws, etc. Park Ranger Bill does a great owl call, by the way. A neighboring troop also joined us for the day. It was fun to spend time with some "sister scouts".
Our troop had the honor of naming this taxidermied squirrel. Allow me to present...Scout!
The girls were fascinated with all the little bits and bobs.
The park has a nice amphitheater along the edge of the lake. We also had the chance to view an area where the park has ongoing prairie restoration, where they have large meadows of native grasses.
The park is home to the world's largest documented spider web. It was over 200 yards-Isn't that crazy? Here's an article about it in Science Daily.
Park Ranger Eager had fun, hands-on items for the girls, like this deer skull.
They even had a snake head in a jar!
Park Ranger Eager showed us many interesting park features, like these mushrooms that grow on trees. These particular types are called conks, and they indicate that the tree is unhealthy. Here is an article about conks if you want to learn more.
The rangers had a fun craft for the girls. They each got a wooden disc, and then chose an animal track stamp. They ended up looking similar to this: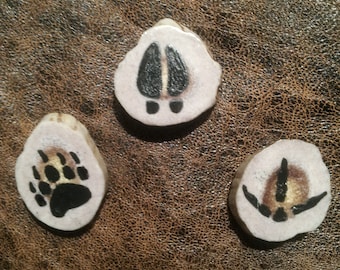 The weather was wonderful...in the seventies, and the setting sun burst through the trees.
The park rangers showed us where a wildfire had swept through portions of the woodlands. They talked to the girls about preventing fires, and how to recognize residual damage from fires.
Can't get enough of that squirrel.
I don't know why everyone doesn't go to a state or national park every single weekend. Our parks are amazing! Get thee to the park nearest you. Seriously. Git.
Here is "Big Bertha", an enormous tree that fell that the park keeps as a habitat and food source for insects. 
Park Ranger Eager explained to how to gauge a tree's age by counting tree rings, and how to tell when it was a flood or drought year.
The park offers a free fishing event for kids in the early spring. They stock a pond, provide all the equipment, and have prizes from Bass Pro Shop. There is also an archery program. We'll be back.
We can't wait to see you again soon, Scout!